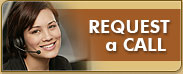 JRC Wrought Iron provides both interior and exterior commercial and residential wrought iron design and iron fabrication for the following services. If you would like more information about our services, please call us at: 626-280-2800 or visit the Online JRC Gallery to view more samples of our work listed below.

Wrought Iron Gates
JRC has over 30 years designing, fabricating, and installing wrought iron gates, ranging from single entry gates, to beautifully custom designed, double entry driveway gates with automatic openers. We can further enhance with desired initials or specially designed ornaments of your choice. Photo Gallery »

Wrought Iron Railing
JRC specializes in providing wrought iron railing from small specially designed handrails to larger commercial projects for apartments, hotels, restaurants, or any other commercial needs. JRC can work with you to design the right railing for your project. Photo Gallery »

Fencing
JRC continues to provide wrought iron fencing for all size projects. JRC has extensive experience in perimeter fencing around pools, play grounds, soccer fields, arenas, or any other location where keeping a secure and enclosed location is mandatory. In addition, JRC has been called to design and install fencing around high-profile private properties where security and privacy is necessary. JRC has successfully completed projects ranging from private home owners to larger commercial and public properties. Photo Gallery »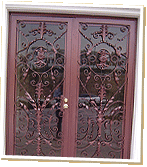 Iron Doors
JRC can provide several designs and customizations for your desired needs. From standard screen doors to more elaborately designed custom doors. Photo Gallery »
Window Guards
JRC has experience designing wrought iron window guards for residential and commercial properties. JRC can design special guards to allow for fire exits and other emergency requirements. In addition, JRC can also provide designs for decorative window coverings for hotels, apartments or residential homes. All window guards are installed by our professional installers. Photo Gallery »
Powder Coating
JRC offers and highly recommends as a final finishing touch that you opt for our powder coating service, to ensure longer life and enhanced beauty. Powder Coating is a three step process where the metal is sand blasted, painted and then baked in an oven to a produce a durable high quality finish.
Anti-Rust Zinc Treatment
JRC also offers an optional Zinc treatment as a rust preventative measure. The ironwork is either dipped or professionally sprayed in Zinc, which creates a powerful barrier that is applied before the final coating. This is highly recommended for work in beach cities, around pools, or for any customer who wants to "set it and forget it". The Zinc in combination with Powder Coating creates the longest possible life for the ironwork than either of the two options alone.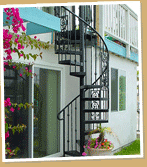 Spiral Staircases
JRC can provide custom designed spiral staircases for interior and exterior residential and commercial projects. JRC has designed spiral staircases in various colors and designs to meet every desired look and to fit any project. Photo Gallery »

Stairways
JRC can provide exterior stairways with concrete steps and wrought iron railing. JRC has extensive experience in designing wrought iron stairways for hotels and commercial properties to residential homes. JRC has the experience and expertise to handle complex multi-level commercial projects. Photo Gallery »
Automatic Gate Openers/Telephone Intercom Systems
JRC can provide and install state-of-the-art gate entry systems and intercoms for any residential or commercial project. JRC installers have over 30 years experience in installing automatic gate openers and intercom systems.Photo Gallery »